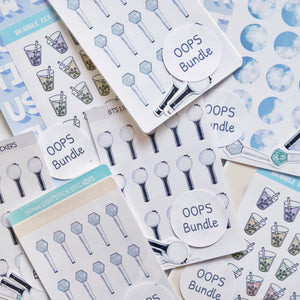 This listing includes flawed/imperfect stickers packaged into Oops grab bags. By purchasing this product, you are okay with having stickers or art prints that have flaws. 

Please note that each bag is chosen randomly so you do not have a choice as to what is in the bag. Each bag has 3 sticker sheets and assorted sticker flakes while quantity lasts.
*There are different categories based off if you want an art print+stickers, holographic stickers, general stickers. Each art print is 5"x7". This listing is for the General Oops Bundle.


Flaws may include:
- slightly off cuts (not deep enough, not centered, extra cut)
- printing colour is off (light colours/wrong colours)
- markings on stickers/art prints
- missing sticker from sheet

No exchanges or returns for Oops Bag.